There is no "one size fits all" treatment for opiate addiction treatment. At The Canada Avenue Clinic, our experienced team will guide you toward the type of treatment best adapted to your recovery goals
Methadone
| | | |
| --- | --- | --- |
| | Methadone is the most used treatment for opiate addiction and has been shown to be significantly more effective than non-pharmacological outpatient treatment approaches in terms of treatment retention and suppression of heroin use | |
---
Suboxone
Suboxone

​

comes in second place as a treatment.

Compared to methadone, buprenorphine at low doses is less effective for treatment retention compared to low doses of methadone , but there is no difference in retention rates for medium and high buprenorphine doses and approximately equivalent methadone doses . Buprenorphine and methadone appear to be equally effective for reducing illicit opioid use and retaining patients in treatment
---
SLOW-RELEASE ORAL MORPHINE ( Kadian )
Since November 2014, slow-release oral morphine (24-hour formulation, brand name Kadian®) has been approved by Health Canada's for the treatment of opioid use disorder. Limited preliminary evidence suggests that slow-release oral morphine formulationsprescribed as agonist treatment may provide similar benefits to methadone-based therapy.

---
| | | |
| --- | --- | --- |
| | ​Counselling : As the standard of care for management of any complex or chronic medical condition, all our clinicians provide medical management, including general support and unstructured counselling, to patients with opioid use disorder. In this context, medical management is defined as medically-focused, informal counselling that includes, but is not limited to, health and mental wellness checks, offering non-judgmental support and advice, | |
Powered by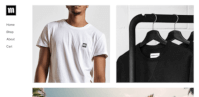 Create your own unique website with customizable templates.